Experienced design and installation of sound, digital signage and state-of-the-art conference room systems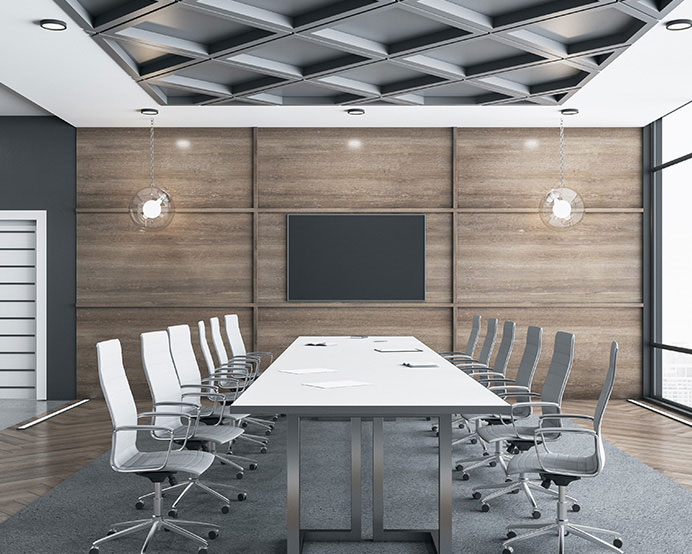 The right audio and video solutions can improve employee productivity, increase safety and efficiency, and enhance meeting and presentation quality. C2 Technology Group has the expertise to enhance your office, retail or commercial space with the latest in audio, video and display systems. We design and install a wide range of solutions, ranging from paging systems for large manufacturing facilities to state-of-the-art A/V installations for executive boardrooms. Our maintenance and repair services keep your equipment operating at peak efficiency and we can retrofit or upgrade your solutions as needed to keep up with evolving technology.
Audio Systems
We offer design expertise, equipment selection and experienced installation to ensure acoustic fidelity, flexibility and reliability for a range of audio solutions, including:
Paging
Sound masking
Background music
Digital and cloud-based systems to handle paging across multiple locations with centralized control
Single and multi-zoned systems for targeted paging and music content
Collaboration Spaces and Conference Room Design
Creating a conference room that works for you takes both the right technology and careful design. We work with leading suppliers for the best equipment, and we make sure the system is configured and installed to meet your needs, including:
Consideration of both audio and visual clarity for local and remote participants
Placement of microphones, speakers and cameras for acoustic and video fidelity
Flexibility for multiple video and audio input sources
Range of room controls for lighting, window blinds and screens for control with a single remote or smart tablet
Careful installation of mounting brackets, cables and equipment rack for a streamlined appearance and easy maintenance
Digital signage
Whether you need signage for promotion, direction or connection, we can help you present your messaging in almost any space – indoors or outdoors. C2 Technology Group can develop a solution to meet your needs and provide experienced installation of options such as:
Dedicated flat-screen display panels
Multi-panel displays or video walls
Cloud-based video streaming controllers
Authoring and playback software
Digital signage players
We offer rapid response emergency service and our annual Service Contracts provide
preventive maintenance, proactive identification of potential upgrades and priority service.